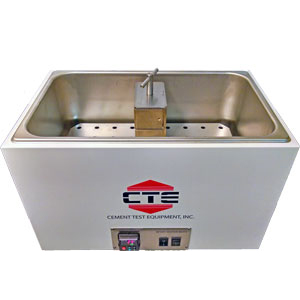 Water Bath
Model #: M1001 29L
Description
The 1001 water bath and temperature controlling water circulator is designed for a temperature range of ambient to 82 degrees Celsius. The 1001 consists of a steel bath assembly, computerized digital heating controller, and a magnetic stirring bar for circulation of heated fluid. The unit can be easily mounted on a counter or bench top and provides easy operation and long term reliability. The 1001 water bath features a digital control system with easily programmable temperature set point for precise heating of cement molds or other types of laboratory samples. The 1001 has the capacity to hold 12 sets of 4 cube molds for curing under atmospheric pressure conditions. Molds purchased separately.
Downloadables
FEATURES
• Bright LED temperature display, resolution 0.1C
• PID Temperature control
• Simple setpoint temperature ramp
• Stainless steel tank and cover
• Filling volume 29.4L (7.76gal)
• Temperature stability; +/- 0.03 Celsius
SPECIFICATIONS
ELECTRICAL
230V 60Hz
115V 50/60Hz
1,500W
MECHANICAL
Overall Dimensions 24″W x 15″D x 15″H
Inside Dimensions 19.5″W x 11.5″D x 8″H; 495x292x203mm
Shipping Weight 47lb (21.4kg)
Temperature Range: Ambient – 180 °F (82 °C)
Capacity: 12 sets of 4 cube curing chamber molds
ACCESSORIES
Optional: Purchase our curing molds in 2 or 4 cube size sets to fit this size water bath. Precision machined molds are made from corrosion resistant aluminum bronze and high grade stainless steel. Includes T and L's, bottom plate with low profile feet, top plates, and heavy duty carry handle.