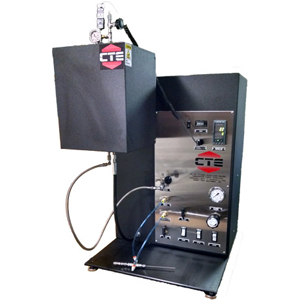 Stirred Fluid Loss Tester
Model #: M2-450
Description
Cements are a critical element in the drilling, completion, work-over, and abandonment of wells. A stirred fluid loss tester is used to determine the quantity of fluid that can be lost from a given slurry during placement in the well. The Model 2-450 allows the slurry to be mixed or stirred under simulated downhole well conditions of high temperature and pressure. The ensuing testing per API recommended practices is performed in a single instrument, eliminating the need to transfer the slurry from a dangerously hot consistometer to a static fluid loss tester. It has been proven by comparative testing, that the use of a single instrument for fluid loss testing will result in more predictable and reproducible results, as well as a safer testing environment for the operator.
Downloadables
The CTE stirred fluid loss tester consists of a pressure vessel that is capable of achieving pressures up to 2,000 psig / 13.8 Mpa and temperatures up to 450°F / 232°C. Pressure for the instrument is provided using high pressure gas (nitrogen is preferred). Heat is applied to the cylinder using a heating/cooling jacket and temperature is controlled within 1 degree Celsius. The vessel can be rapidly cooled by circulating cooling water through the jacket after completion of a test. The pressure vessel contains a stirring paddle that rotates at 150 rpm. A standard 325 mesh screen is used as the filter medium to determine the amount of fluid that can be lost from the slurry. A filtrate cooling jacket is included for tests above 200°F / 95°C.
FEATURES
✔ API RP-10b / ISO 10426 Recommended Testing Procedure
✔ More accurate well simulation = More accurate fluid loss results
✔ Used to verify static fluid loss results
✔ Industry Leading Design
✔ No Stand-Pipe = Less Maintenance
BENEFITS
✔ Stirring is done through flexible drive shaft
✔ PID temperature control
✔ Replaceable Bearings and Packing
✔ Stainless Steel Pressure Vessel with heavy duty screw in end caps
✔ Conforms to API RP 10
✔ Simple to use filtrate cooling jacket
✔ Internal cooling coils for rapid between-test cooling.
✔ Unique backflow preventer eliminates need for messy, hard to clean stand pipe.
✔ Unique filtrate cooling system to ensure filtrate will not boil off at high temperatures.
SPECIFICATIONS
DRIVE UNIT
Drive Motor: 230V –  DC Gear, 180VDC
Drive Speed: 0-250 rpm (variable), pre-set at 150 rpm.
WATER/N2 CONNECTIONS
Water In/Out: 1/4 MNPT (2)
Nitrogen: 3,000psig Max
ELECTRICAL
Input Voltage: 230 VAC (±10%)
Current: 7A (230V)
Input Frequency: 50-60Hz
MECHANICAL
Height: 34 in. (38 cm)
Width: 28 in. (67 cm)
Depth: 23 in. (38 cm)
Weight: 150 lb. (68 kg)
ENVIRONMENTAL
Operating Temp.: 32 to 105°F / 0-40°C
Operating Humidity: 0-95% non condensing
HEATER
Heater Power: 1500 W
Heater Type: Cast Heater w/ Cooling Coils
Heater Control: SS Relay, PID Controller
ACCESSORIES
Unit comes with power cord ready for your destination plug to be added, spare o-rings, shaft packing, screens, SAE wrenches and hex keys, graduated cylinder, bushings, hoses and connectors to connect instrument to laboratory utilities, handy dandy multi wrench to open cylinder end caps, back flow preventer and check valve.