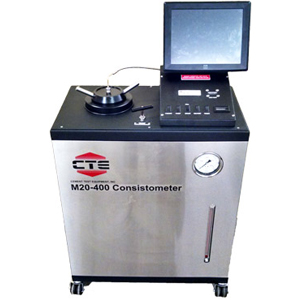 Pressurized Consistometer
Model #: M20-400
Description
The CTE Model 20-400 is specifically designed to measure the thickening time of cement slurries in strict compliance with ISO-10426, API Spec 10A and API RP-10B Schedules. With high temperatures and pressures applied to the cement, it is possible to simulate a variety of conditions found in actual down-hole well cementing. The measured thickening time can then be used to formulate actual well cementing plans.
Downloadables
OPERATION
Operation of the pressurized consistometer is simple with all of the operational controls conveniently located on the front panel. The readout indictors for the viscosity, pressure, and temperature, as well as operational instructions, are easily read from the 12-inch color touch-screen. The consistometer is designed so that closure, heating, and pressurization can be achieved quickly. This ensures compliance with the requirement of ISO and API schedules. The temperature control system will automatically control the rate of temperature rise of the slurry (i.e. temperature gradient). When the slurry reaches the desired maximum temperature, the system will hold the slurry temperature at that level. The temperature and viscosity of the slurry, and current pressure are displayed constantly on the touch-screen numerically and graphically. Contains easy spin-on/off automotive style mineral oil filter and 100 micron high pressure filter to remove sediment and other contaminants from mineral oil.
FEATURES
✔ 12 inch color touch-screen for display of testing parameters and access to programmable features
✔ Easy network LAN connection for remote viewing in real-time
✔ USB drive for data export or export direct via network connection
✔ Maximum operating pressure 22,000 psi (150 MPa)
✔ Maximum operating temperature 400° F (205° C)
✔ Precision, magnetic, drive assembly keeps maintainence down to a minimum
✔ Automatic, shut down cooling
✔ Oil reservoir cooling
✔ No other processor or PC is required to operate the system
✔ Ultra-fast processor ensures high-speed computing
✔ Lots of on-board memory for thousands of tests
✔ CementLab software takes consistometer technology into the 21st century
✔ Pressure control optional
✔ Redesigned with automated technologies to remove unnecessary valves, switches, and timers
BENEFITS
✔ Instructions displayed on touchscreen allow first-time users to operate instrument efficiently
✔ Rate of temperature rise of the slurry can be closely controlled over a wide range of temperature gradients including a multi-slope gradient
✔ Easy network configuration for remote viewing of tests, data transfer.
✔ Hundreds of similar units are in operation with interchangeable parts
✔ High-wattage slurry heater provides high heating rates needed to simulate high temperature gradients in wells as required by ISO and API schedules
✔ The units have viscosity alarms that can be set over the range from less than 30 Bc to 100 Bc
✔ The cooling coils around the pressure vessel permits the circulation of a cooling fluid to cool the pressure vessel quickly
✔ Oil reservoir cooling used to rapidly cool oil between tests
SPECIFICATIONS
DRIVE UNIT
Drive Motor: .65A, 180VDC
Drive Speed: 150 rpm (Variable Speed Optional)
AIR/WATER CONNECTIONS
Water In/Out: 1/4 MNPT (2)
Air Input: 1/4 MNPT (1) max 120psi
ELECTRICAL
Input Voltage: 230 VAC (±10%)
Input Power: 6500W
Current: 30A
Input Frequency: 50-60Hz
MECHANICAL
Height: 36 in. (91 cm)
Width: 26 in. (66 cm)
Depth: 15 in. (38 cm)
Weight: 750 lb. (340 kg)
ENVIRONMENTAL
Operating Temp.: 32 to 105°F, 0-40°C
Operating humidity: 0-95% non condensing
HEATER
Heater Power: 5000 W
Heater Type: Internal Cast Rod Heater
Heater Control: SS Relay
ACCESSORIES
Pressure control and display is optional. We make this an option for those that don't require pressure control. Please remember to ask for it upon requesting a quote.
Hesitation Squeeze Software.
Comes with: Pre installed printer, power cord ready for your local plug requirements, mineral oil, calibrator with weights, slurry cup assembly, potentiometer mechanism, slurry cup and pot mech bails, ASE wrenches, fuses, o-rings, diaphragms, ruptrure discs, hoses and fittings to connect to your laboratory utilities.