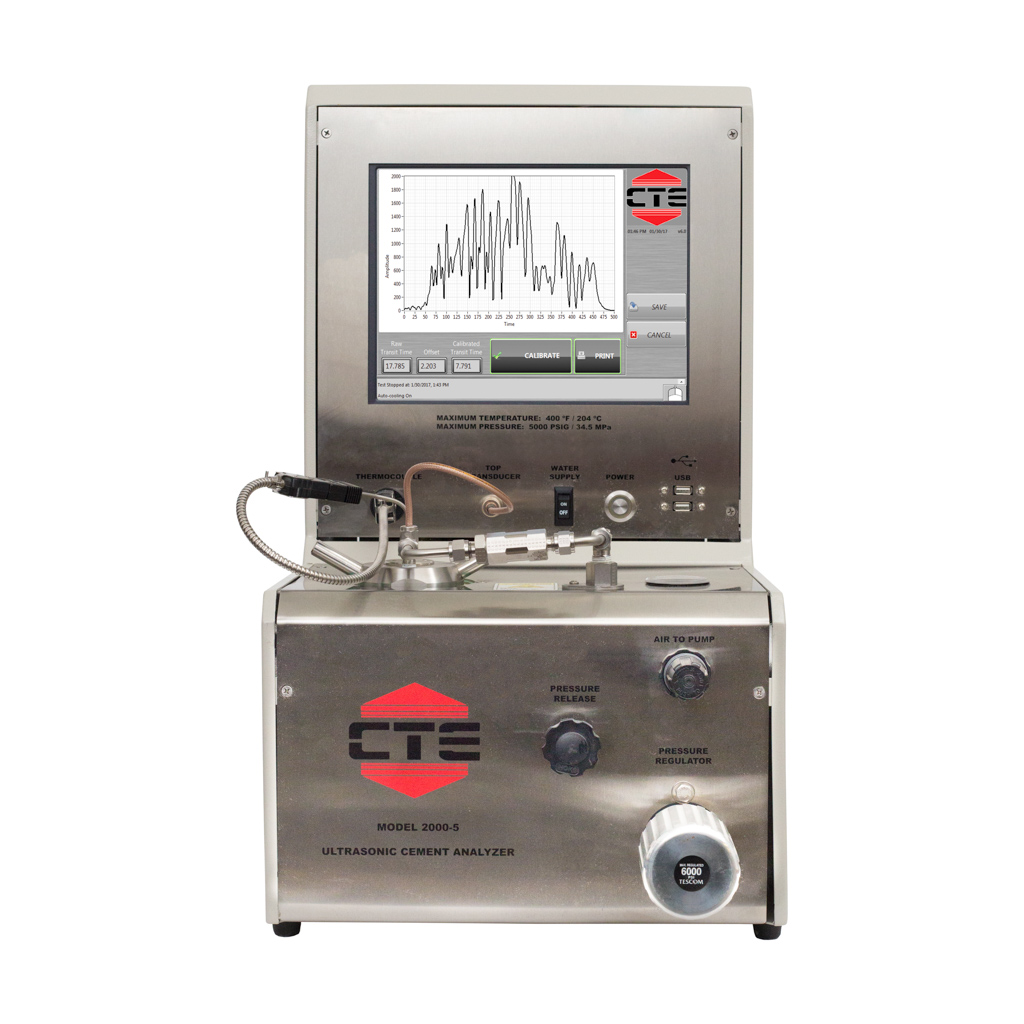 Ultrasonic Cement Analyzers
Model #: M2000-5
Description
The UCA (Ultrasonic Cement Analyzer) is used to provide an indication of the relative strength development of a slurry sample while it is being cured under downhole temperature and pressure conditions. Relative strength is determined by measuring the change in velocity of an ultrasonic signal transmitted through the cement slurry specimen as it cures. As the strength of the cement specimen increases, the transit time of the ultrasonic signal through the specimen decreases, allowing the relative strength to be calculated.
Downloadables
OPERATION
CTE Model 2000-5 UCA is able to test cement slurries at temperatures up to 400°F/204°C and pressures as high as 5,000 psig/34.5 MPa. The slurry sample to be tested is prepared in accordance with API recommended practices and then placed in a temperature and pressure-controlled autoclave unit (cell). Pump pressure is applied via solenoid valve. Pressure control is achieved manually using the air and pressure regulators. The desired temperature profile is easily programmed using the touch screen features of the monitor. Step by step instructions are displayed on the monitor so no training is required, even for the beginner. After the desired temperature profile is entered, a preview of the ramp is displayed graphically for pre-test inspections to prevent programming errors. The desired and actual temperature profiles are displayed along with numerous other data during the test. The UCA is equipped with CTE'S state-of-the-art temperature control and data acquisition software that provides unparalleled ease of use. A separate PC and keyboard/mouse are not required. Calibration and diagnostic capability are easily accessed using the touch screen features of the monitor. A color graph showing compressive strength, temperature, pressure and transit time may be plotted on any printer, downloaded to a USB flash drive or exported as a .pdf file. Numerical test data can be exported as a txt file.
BENEFITS
We have incorporated a over-temperature safety feature into the instrument. This purpose mounted monitoring relay senses when the heater is receving too much current and cuts power stopping a run-away heating situation. A safety pressure head is also incorporated into the instrument which carries a rupture disc that safely bursts in case an over pressure situation arises. The useful life of this unit can easily exceed ten years with normal routine maintenance. Improved user interface allows users quick access to programming options displayed on the touch screen minimizing or eliminating need for time consuming training and increases operator confidence. Integral cooling jacket permits the circulation of a cooling fluid to cool the pressure vessel quickly (Optional chiller available). High speed, no noise processor performs fast calculations and increases display resolution for better functionality. Rugged and compact electronics withstands lab environment and improves space saving. Super-slim design enables side-by-side configurations. New, light-weight pressure vessel reduces user fatigue and reduces cleanup time.
FEATURES
✔ Back saving, light weight pressure vessel design
✔ Industry's only fully digital ultrasonic pulse board eliminates signal drift
✔ Maximum operating pressures to 5,000 psi (34.5 MPa ) and temperatures to 400°F (204°C)
✔ Digital, real-time display of current strength, transit time, pressure and temperature measurements
✔ Run-away heater sensor monitors test conditions and adds another layer of safety
✔ 12 inch, color touch-screen for display of testing parameters and access to programmable features
✔ Ability to network instrument data and view test in real time remotely
✔ CTE software capable of integrating competitor data acquisition systems and running multiple machines
✔ USB flash drive for data export
✔ Rugged and compact electronics withstands lab environment and improves space saving
✔ Pressure control maintained with high quality pressure relief valve and air-operated, high pressure pump
✔ Pressure safety head with rupture disc prevents dangerous over pressure situations
✔ Automatic shutdown based on compressive strength or test time
✔ Universal Power Supply (optional) easily installed via service connection on the rear of instrument
✔ Adjustable automatic cooling upon test finish
✔ Meets API Spec 10, RP 10B, and ISO 10426 requirements
SPECIFICATIONS
SERVICE CONNECTIONS
Compressed Air 50-100 psi (Intermittent flow): (700kPa)
Cooling Water: 5-80 psi (600kPa) Nominal flow 2L/min
ELECTRICAL
Input Voltage: 230 VAC (±10%)
Current: 20A
Input Frequency: 50-60 Hz
MECHANICAL
Height: 25 in. (63.5 cm)
Width: 14 in. (36 cm)
Depth: 19 in. (48 cm)
Weight: 83 lb. (38 kg)
ENVIRONMENTAL
Operating Temp.: 32 to 105°F, 0-40°C
Operating Humidity: 0-95% non condensing
HEATER
Heater Power: 1500 W
Heater Type: Cast Heater w/Cooling Coils
Heater Control: SS Relay
ACCESSORIES
Unit comes with:
Pre-installed printer.
Power cord ready for your area's power plug to be installed.
Spare o-rings, slurry gauge, fuses, rupture disc, filters and lubricants.
Fittings and hoses to connect to your pre-installed lab utilities.
Handy-Dandy Multi-wrench for opening and closing many different pressure vessels and SAE wrenches.