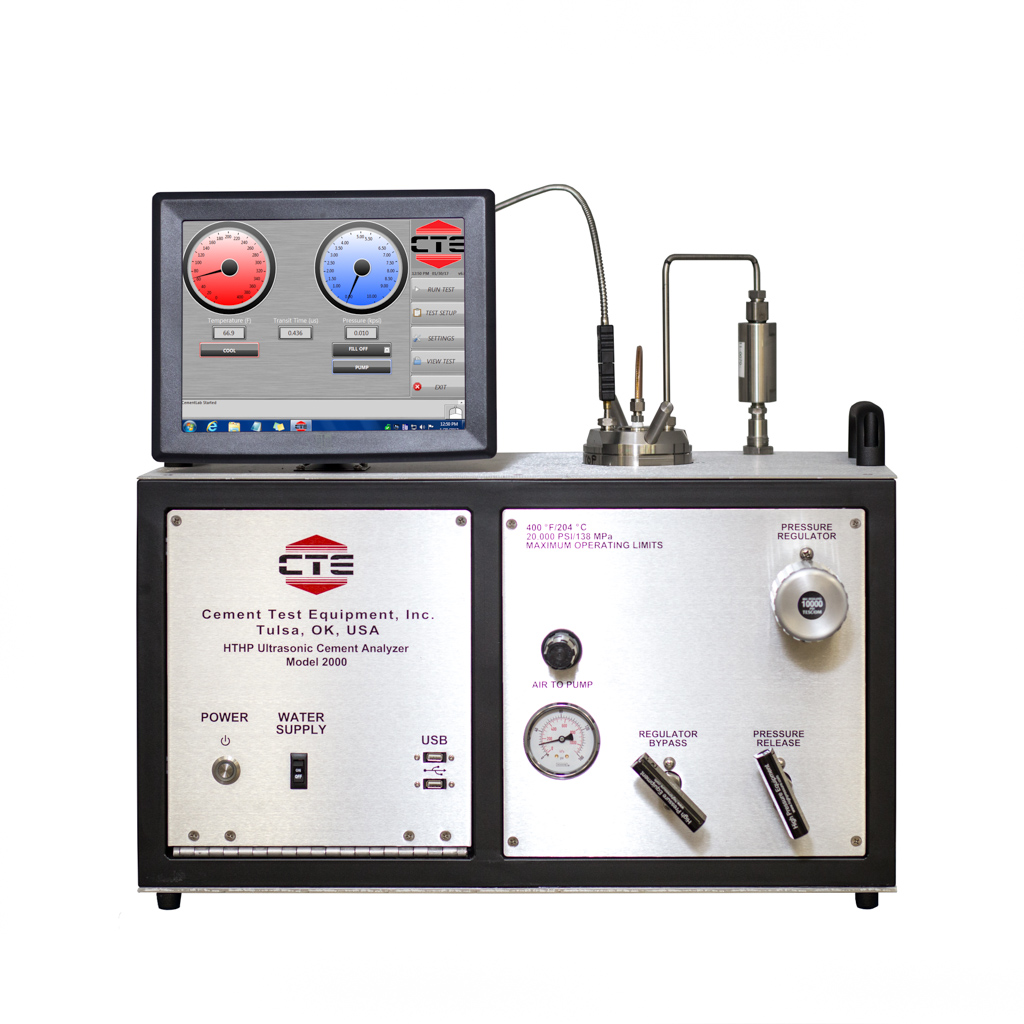 Ultrasonic Cement Analyzers
Model #: M2000
Description
The M2000 UCA (Ultrasonic Cement Analyzer) is used to provide an indication of the relative strength development of a slurry sample while it being cured under downhole temperature and pressure conditions. The instrument is designed to perform testing in accordance with API Recommended Practice 10B-2/ISO 10426-2. The M2000 UCA is able to test cement slurries at temperatures up to 400°F/204°C and pressures as high as 20,000 psig/138 MPa.
Downloadables
M2000-HT
Another higher temperature model is available which is capable of a slightly higher maximum temperature of 500°F (260°C).
OPERATION
Relative strength is determined by measuring the change in velocity of an ultrasonic signal transmitted through the cement slurry specimen as it cures. As the strength of the cement specimen increases, the transit time of the ultrasonic signal through the specimen decreases, allowing the relative strength to be calculated. The slurry sample to be tested is prepared in accordance with API recommended practices and placed in the pressure cell. Pumped water pressure is applied with an air regulator and set point pressure control is achieved automatically with a high pressure regulator. Step by step programming instructions are displayed on the 12" touch screen. Temperature control is fully automatic and multi-ramp programmable.
Safety features include:
• Rupture disc protects system over-pressure.
• Fused circuitry.
• Automated error reporting.
• Thermocouple detection protects against heater run-away.
• Over-current sensing relay monitors and protects against short circuits.
STANDARD EQUIPMENT
State-of-the-Art, user friendly Cementlab® software package with Windows® XP operating system and 180gb SSD.
Digital, graphical on-screen pressure indication.
Automatic set-point pressure control regulator up to 10,000 psig (69 MPa). Manual control thereafter.
Fully programmable temperature control and digital, graphical onscreen temperature indication.
5 micron water inlet and high pressure filters protect critical components and prevent premature failures.
Spares and accessories include tools, fuses, slurry cup parts, utility connection hardware, main power cord and printer.
Customizable graphs and mulit-variation data export.
Programmable and audible alarms for compressive strength and time.
Text test files can be transferred to any existing user data base or spread sheet.
Permanent on-board record of test files.
Manual high pressure release and regulator by-pass valves.
OPTIONAL EQUIPMENT AND SERVICES
Automatic, programmable pressure control.
1 year spares kit for normal operation.
Instrument training and commissioning.
Scheduled calibrations.
Re-circulating chiller for improved post-test cooling times.
High temperature operation up to 500°F/260°C (M2000-HT UCA)
FEATURES
Digital, real-time display of current strength, transit time, pressure and temperature measurements.
USB flash drive for data export.
High quality pressure relief valve and high pressure pump.
Automatic shutdown based on compressive strength or time.
Integral cooling jacket permits the circulation of a cooling fluid to cool the pressure vessel quickly.
Adjustable automatic cooling upon test finish.
Instrument can be joined into local networks for remote test viewing.
Externally mounted computer control box allows simple access to ports, repair, or future upgrades.
Simple calibration routines enable users to quickly calibrate the instrument.
Graphical customization allows the user to change labels, colors, visibility, and scaling.
Further customization of the testing units and sampling rate.
BENEFITS
Non-destructive method determining relative compressive strength and WOC time.
Step by step instructions for programming options displayed on touch screen minimizing or eliminating need for time consuming training and increases operator confidence.
High speed processor performs timely calculations and increases display resolution for better functionality.
Bench-top cabinet designed with easy access side panels to electronics and plumbing for easy maintenance and servicing.
Rugged and compact electronics withstands lab environment and improves space saving.
Industry proven, proprietary algorithms.
No other PC is required to operate the instrument.
SPECIFICATIONS
SERVICE CONNECTIONS
Compressed Air: 50-120 psi (Intermittent flow): (700kPa)
Cooling Water: 5-80 psi (600kPa) Nominal flow 2L/min
ELECTRICAL
Input Voltage: 230 VAC (±10%)
Current: 11A
Input Frequency: 50-60 Hz
MECHANICAL
Height: 15 in. (38 cm)
Width: 26 in. (67 cm)
Depth: 15 in. (38 cm)
Weight: 150 lb. (68 kg)
ENVIRONMENTAL
Operating Temp.: 32 to 105°F, 0-40°C
Operating Humidity: 0-95% non condensing
HEATER
Heater Power: 1500 W
ACCESSORIES
Unit comes with:
Pre-installed printer
Power cord ready for your area's power plug to be installed
Spare o-rings, slurry gauge, fuses, rupture disc, filters and lubricants.
2 different kinds of fittings and hoses to connect to your pre-installed lab utilities.
Handy-Dandy Multi-wrench for opening and closing many different pressure vessels.
SAE wrenches