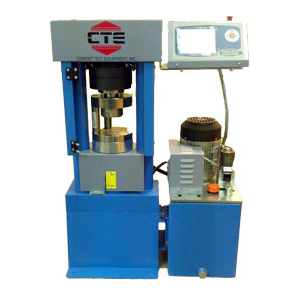 Compression Tester
Model #: M5000
Description
The CTE Model 5000 Compressive Strength Tester is a hydraulic press using state of the art digital hydraulic control. The Model 5000 Press is used to test the compressive strength of standard-sized two-inch long cement cubes in strict compliance with current API/ISO standards specified in API Spec 10A and ISO 10426. The Model 5000 consists of a steel load frame assembly, computerized control box with integrated touchscreen, accurate, highly reliable, hydraulic power system. The unit can be easily mounted to the floor or bench of a permanent or mobile laboratory and does not need any additional accessories or cabinetry. The CTE Model 5000 Compressive Strength Tester features a digital control system with easily programmable continuous force ramping algorithms for accurate and precise detection of compressive strength. With safety in mind a fast, pushbutton emergency off switch is located on the top of the machine. Also included are polycarbonate safety doors to protect users against any test projectiles. Test data is saved to a USB memory stick or SD card. Programmable alarms. Multilingual display. International units configurator.
Downloadables
FEATURES
✔ Easy to install and operate.
✔ Multi-segment programmable Force/Pressure rate control per API/ISO specifications.
✔ Highly accurate, highly precise compressive strength measurement.
✔ Safe to operate with high strength protective cage for sample.
✔ Easy digital display for recording compressive strength results in real time.
✔ Hold step programmable.
SPECIFICATIONS
Input Voltage: Three different voltages available – 220VAC, 50 or 60Hz; 110VAC, 60Hz.
Dimensions: 32 x 20 x 48 in: (80 x 50 x 120 cm)
Weight: 750lb (340kg)
Maximum Loading Rate: 50,000 lb/min, 178 kN/min