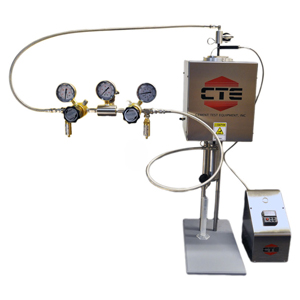 Static Fluid Loss Tester
Model #: M622-500
Description
The CTE Model 622-500 Static Fluid Loss Tester is capable of performing tests up to 2,500 psi (17.2 MPa) and 500 °F (260 C). The test cell can hold up to 1/2 L of slurry sample. The test cell is a double-ended, screw-in cap design that uses stem values to open and close the pressure ports on either end. Standard 325 mesh screens are supplied with the instrument. Stainless steel cabinet construction ensures long life durability. Precise temperature control with easy-to-use, set-point, PID controller and thermocouple probe. Cast-in heater/cooling jacket with no-mess insulation jacket. Instrument supplied with a filtrate receiver that is capable of supplying compressed gas to prevent boil-off at high test temperatures. Direct to bottle, dual nitrogen manifold (M800) sold separately. The manifold is capable of supplying pressure to the cell and filtrate receiver.
Downloadables
FEATURES
✔ Maximum operating pressure to 2,500 psi (17.2 MPa).
✔ Maximum operating temperature to 500 °F (260 C).
✔ Fail-safe pressure relief system.
✔ Conforms to API Spec. 10 and Spec. 13, ISO 10426.
✔ Compatible with ISO testing requirements.
BENEFITS
✔ Safe working environment – residual pressure is automatically released when attempting to open cell.
✔ Quicker preparation time – radial o-ring seal allows hand-tight closure.
✔ Ease of assembly – no set screws to install.
✔ Integrated heating and cooling jacket.
✔ Standard industry sizes for 500ml and 175ml cells.
✔ Embedded cooling coils for deep-water simulation.
SPECIFICATIONS
ENVIRONMENTAL
Temperature: 32 to 105°F, (0-40°C)
Operating Humidity: 0-95% noncondensing
WATER/N2 CONNECTIONS
Water In/Out: 1/4 FNPT (x2)
Nitrogen: 3,000 psig – Maximum
ELECTRICAL
Input Voltage: 230 VAC (±10%)
Input Power: 5A
Input Frequency: 50-60 Hz
HEATER
Heater Power: 1500W
Heater Control: SS Relay, PID Controller
MECHANICAL
Height: 22 in. (56 cm)
Width: 16 in. (41 cm)
Depth: 22 in. (56 cm)
Weight: 65 lb. (30kg)
ACCESSORIES
Comes with: Power cord, stem valves, multi-wrench, O-rings, and screens.