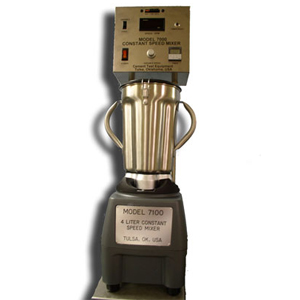 Constant Speed Mixers
Model #: M7100
Description
The CTE Model 7100 Constant Speed Mixers provide all the necessary functions to mix cement slurries according to API and ISO specifications and recommended practices. These mixers can also be used to thoroughly mix other shear-sensitive dry or fluid materials. Detailed testing within the API has shown that the methods of mixing cement slurries will significantly effect the thickening time. The Model 7100 Mixer is designed in accordance to API Spec 10 and have constant speed operation independent of the line voltage and rate that cement is added to the mix water. Good practice indicates that the cement be added slowly over a fifteen second period as specified by the latest addition of API Spec 10. The Model 7100 Mixer will hold speed constant during the fifteen second period without operator attention, so wide variations in shear rate are avoided. Variations in shear rate have been found to be a major source of differences in thickening time tests when other variables are held constant. Tests within the API have also shown significant variations in thickening time as a result of worn or eroded mixer blades. Major differences in thickening time are eliminated by the use of hardened blades in the Model 7000. The hardened blades resist erosion during the mixing process and retain their original shape and pattern many times longer than standard blades normally found on regular industrial mixers. Of course, worn, hardened blades will need to be replaced with new hardened blades after showing signs of erosion.
The control panel is at eye level when the mixer is placed on a normal laboratory bench. Ease of operation is ensured by having push button controls for the two speeds specified by API Spec 10 preset. It is a simple operation to add the cement to the mix water at 6,000 rpm and then set the speed to 14,000 rpm by pressing a switch. The speed is immediately increased to 14,000 rpm with no other operator action, assuring compliance with API Spec 10, and consistent mixing from sample to sample. The Model 7100 Mixer is designed for heavy–duty industrial applications and long life. An additional shaft seal and special electronic circuitry are added to the basic mixer motor assembly to ensure the mixers reliability. The mixers also have stainless steel cabinets to protect against corrosive elements.
FEATURES
✔ Constant speed operation hardened mixing blades
✔ Two preset constant speeds (6,000 and 14,000 rpm)
✔ Push button selection of speed
✔ One continuous variable speed (1,000 to 21,000 rpm)
✔ Stainless steel container
✔ Bright digital display at eye level
✔ Stable base plate and control panel
✔ Spare parts stocked in-house
✔ Industrial grade mixer
BENEFITS
✔ No variation in thickening time test due to changes in shear rate
✔ Hardened mixing blades assure long life
✔ Operator can quickly select API specified speeds while adding cement to mixer
✔ Variable speed selection allows mixing of shear-sensitive dry or fluid materials at any speed
✔ Stainless steel container can withstand abrasive action when mixing cement at high speeds
✔ The constant speed is easily observed via a bright digital display
✔ Stability of the unit is ensured by the heavy base plate and control panel which are designed for safe and easy operation
✔ The preset speeds can be easily changed to any value between 1,000 and 16,000 rpm for applications outside API Spec 10
✔ Heavy-duty industrial-grade mixer assures its trouble-free and long life operation
SPECIFICATIONS
ELECTRICAL
Voltage: 115 VAC OR 230 VAC (+/- 10%). 50/60 Hz. 10 Amp – 230 VAC, 20 Amp – 115 VAC.
MECHANICAL
Container Material: Stainless steel
Maximum Speed: 21,000 rpm or 28,000 rpm *if required
Speed Selection Switch: Three push button switches to quickly select the desired speed
Constant Speeds: Two independently adjustable speeds. Preadjusted by CTE to 6,000 to 14,000 rpm (per API Spec 10)
Adjustable Speeds: From 1,000 to 21,000 rpm
Display: Speed is displayed directly in rpm
Cabinet: Stainless steel
Container Volume: 4.2 quart (4 liter)
Dimensions: 35 inches (89 cm) high x 16 inches (41 cm) wide x 11 inches (28 cm) long
Net Weight: 55 lbs. (25 kg)
Shipping Weight: 75 lbs. (34 kg)
ACCESSORIES
Comes with conversion adapter which allows 1 liter container to be operated with Model 7100. Spare blades and fuses. Power cord.