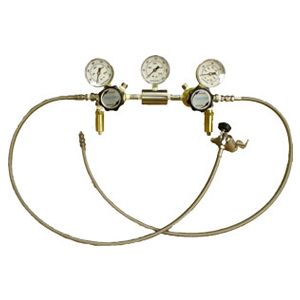 Nitrogen Manifold
Model #: M800
Description
Dual pressure nitrogen manifold allows users to pressurize a static fluid loss tester per API standards. The manifold will regulate up to 2,500 psi on the high side and up to 750 psi on the low side. The higher pressure suitable for the pressure cell and the lower pressure suitable for the filtrate receiver. Pop-off valves stop dangerous back pressure scenarios keeping labs safer. Premium grade pressure regulators offer maximum precision and service life. The incoming service gas, left and right side gauges keep you informed of system manifold pressures.
Downloadables
SPECIFICATIONS
Manifold input is 1/4MNPT. Comes with CGA 580 nipple and nut to allow direct connection to nitrogen bottle.  The 1/4MNPT manifold connection can be adapted to with numerous other methods allowing a custom installation if necessary.
Outputs are 1/4″ metal braided hoses. Low pressure side has an 1/8MNPT to 1/4 compression fitting to adapt to static fluid loss tester filtrate receiver. High pressure side has a specially machined stem valve adaptor and pressure release valve. Pressure release valve allows users to evacuate nitrogen pressure as pressure regulators are non-venting. This non-venting action stops cement and/or fluid from backing up into the regulators and ruining seals, etc.
ACCESSORIES
We offer longer hoses and different fittings. Please call for more information on purchasing those items or any other requests.