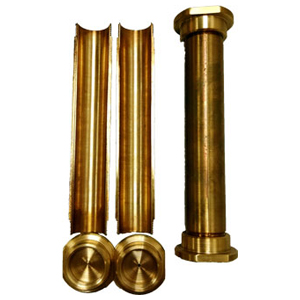 Cement Molds
Model #: Settling Tube Mold
Description
Cement Test Equipment settling tube molds are made in accordance to API Specification 10. We currently offer 3 different sizes. 6.25″, 6.8″ and 12″ length sample. The molds may be used in pressurized or non-pressurized curing chambers or baths. The molds are non-corrosive, durable and machined from high quality brass in the USA. These assemblies will last a very long time with proper handling and maintenance. The settling tube molds are used to test slurry stability by measuring the density segregation of setting cement. This test is also known as the BP settling test. Each size produces a 1" diameter specimen. High temperature o-rings and zip ties are utilized to prevent sample leakage during testing. The top cap has a small hole drilled into it to allow fluid pressure to come into contact with the sample.
Downloadables
SPECIFICATIONS
Part#; Specimen Length; Weight; Overall Dimensions
05-0075-2; 6.25" (15.9cm); 1.6lbs; (.73kg) 6.8"(17.3cm)L x 1.75"(4.4cm)D
05-0075; 6.8" (17.3cm); 1.7lbs; (.77kg) 7.4"(18.8cm)L x 1.75" (4.4cm)D
05-0075-1; 12" (30.5cm); 2.8lbs; (1.3kg) 12.6"(32cm)L x 1.75" (4.4cm)D
ACCESSORIES
Supplied with high temperature zip ties.