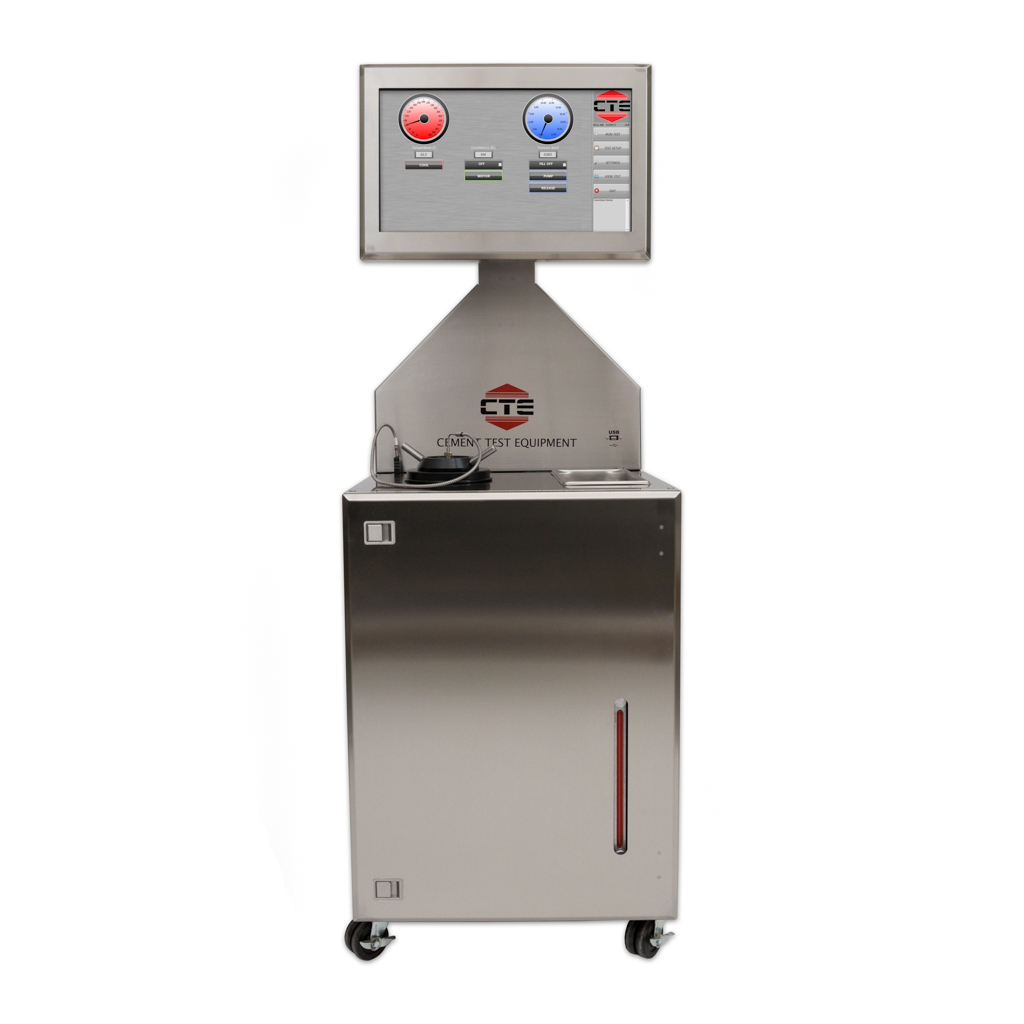 Pressurized Consistometer
Model #: M22-400-Auto
Description
Welcome to the future of high temperature, high pressure cement testing instruments. Our new fully automated consistometer requires less space, less training, and less maintenance than anything available on the market. The M22-400 automated consistometer is specifically designed to measure the thickening time of cement slurries in strict compliance with ISO-10426, API Spec 10A and API RP-10B Schedules. This consistometer is a leap forward in technology by applying many of the most modern control techniques available today. Need a perfect, pressure controlled test without having to stand and manually control pressure? No matter what you want the pressure to do, this machine can be programmed to do it. Programming temperature is easy and dummy proof. Hesitation squeeze is no problem. A massive 22″ color touchscreen delivers bright and vibrant display controls. Our Cement lab software has decidedly taken over control with automation. Easy to use and fast, these operation screens allow users to fully control every aspect of the machine. Filling and draining the pressure vessel with oil, heating and cooling, pressurizing and depressurizing, and rotational speed are all fully automated. Our unique testing and test data screens offer detailed control over the way your plot looks including color designations and job properties. Alternately, test data can be exported raw and utilized however one wishes.
Downloadables
M22-400-Auto Datasheet Espanol
OPERATION
Automated design – Simple test setup and execution.
Simplified plumbing system – no valves to over tighten.
Modernized electrical system – no switches = reduced user errors.
Overall component number reduced – unified components require less spares.
Reduced complexity – automated error reporting.
Easy to read oil resevoir sight glass is visible through the front door.
Integrated safety features including: over pressure rupture disk, current sensing relay to prevent heater run-away, contact pin shields.
Fully tested and calibrated to factory specifications.
Heavy weight, articulating, touchscreen arm provides adjustable viewing angles.
FEATURES
CementLab software package includes: fully automatic, programmable, multi-segment temperature and pressure control ramps, and multi-segment, easy to program hesitation squeeze.
Intuitive programming, calibration, and many other customizable features.
Windows 7 ® operating system.
Massive 22 inch color touchscreen for input of testing parameters and access to programmable features.
Maximum pressure and temperature to 22,000 psi (152 MPa) and 400°F (204°C).
All parts are interchangeable with other consistometers, including the magnetic drive, no need for special spares.
PC separated from control electronics—componentized for economical repair/upgrade.
Fast, automatic cooling after test.
Compact design with access door for easy serviceability. Only 24 inches (61 cm) wide!
Service tray for potentiometer and parts = less mess.
Easily export data into text files for import into any database or spreadsheet.
USB flash drive for non-network transfers/upgrades.
Simple network setup and remote access software.
View multiple live tests and compare/print/export data with remote viewing software.
Adjustable, audible alarms for thickening time and automatic shutdown/cooling.
Extra large oil resevoir.
Multiple filters assure system contamination protection.
BENEFITS
Digital temperature, pressure, and consistency indication.
Networked data acquisition in real time with remote viewing.
Standard components interchangeable with competitors' consistometers.
Rugged electronics assure extend and reliable performance.
No additional PC required.
Worldwide service and parts delivery for fast replacements, calibrations, training seminars.
Large pressure vessel and resevoir cooling coils decrease cooling times between tests.
Service centers in the U.S.A., UK, Russia, and Southeast Asia.
Replacement Parts IN STOCK, Priced Right and shipped today, WORLD-WIDE!
SPECIFICATIONS
MAGNETIC DRIVE UNIT
Drive Motor: 1/8 Hp, 180VDC
Drive Speed: 0-250 rpm, 150 rpm standard default.
AIR/WATER CONNECTIONS
Water In/Out: 1/4 MNPT (2)
Air Input: 1/4 MNPT (1) max 120psi
ELECTRICAL
Input Voltage: 230 VAC (±10%)
Input Power: 5500W
Current: 25A
Input Frequency: 50-60Hz
MECHANICAL
Height: 66 in. (168 cm)
Width: 24 in. (61 cm)
Depth: 34 in. (86 cm)
Weight: 600 lb. (272 kg)
ENVIRONMENTAL
Operating Temp.: 32 to 105°F, 0-40°C
Operating humidity: 0-95% non condensing
HEATER
Heater Power: 5000 W
Heater Type: Internal Cast Rod Heater
ACCESSORIES
Comes with: Pre installed printer, power cord ready for your local plug requirements, mineral oil, calibrator with weights, slurry cup assembly, potentiometer mechanism, slurry cup and pot mech bails, ASE wrenches, fuses, o-rings, diaphragms, rupture discs, hoses and fittings to connect to your laboratory utilities.
People Also Checked Out